The KeldairHR ATS enables users with the appropriate access and permissions to print and download a flat-file for a new hire (a compressed view without links) as needed. This version of the new hire file can be printed as a hard copy, downloaded as a PDF, or viewed on-screen. Printing files provides HR teams with the flexibility to use them offline for HR meetings, interviews, etc.
Elements of a Printed New Hire File
Viewing a Printed New Hire File
The following elements are included in a printed New Hire file if they are part of the onboarding process:
New Hire Profile
Messages
Comments
Data Fields
Open Onboarding by clicking the user profile drop-down in the upper-right corner of the page and selecting Onboarding.
From the New Hires tab, open a New Hire File by clicking on a New Hire's name or search for a New Hire by entering at least 3 consecutive letters of the first name or last name in the Search box.
Once the New Hire File is open, click the printer icon on the right side of the New Hire profile.
Click All Sections to print the entire New Hire File or choose one or more sections individually by clicking the corresponding checkbox.

When choosing All Sections or Data Fields, you must opt to Show Sensitive Data or not by unchecking or checking the box.

Click PRINT.
The system will launch a new tab in your browser with the flat-file of the New Hire File along with your computer's printer dialog box (control+P). From here, you can take the following actions:

To print a hard copy

: Select a connected printer from the Destination field drop-down of the printer dialog box to print the file on paper. Confirm by clicking Print.

To print as a PDF

: Select an available PDF printer from the Destination field drop-down of the printer dialog box to print the file electronically. Confirm by clicking Save, select the file location on your device, review the File Name, and finalize by clicking Save.

To view online

: Select Cancel from the printer dialog box to close the print options and then view the New Hire File on the screen.
Note: If you share the Print File URL, the recipient must be logged in to your organization's hiring system to view the contents of the printed New Hire File.
The following example of a printed New Hire File shows how it will appear to users.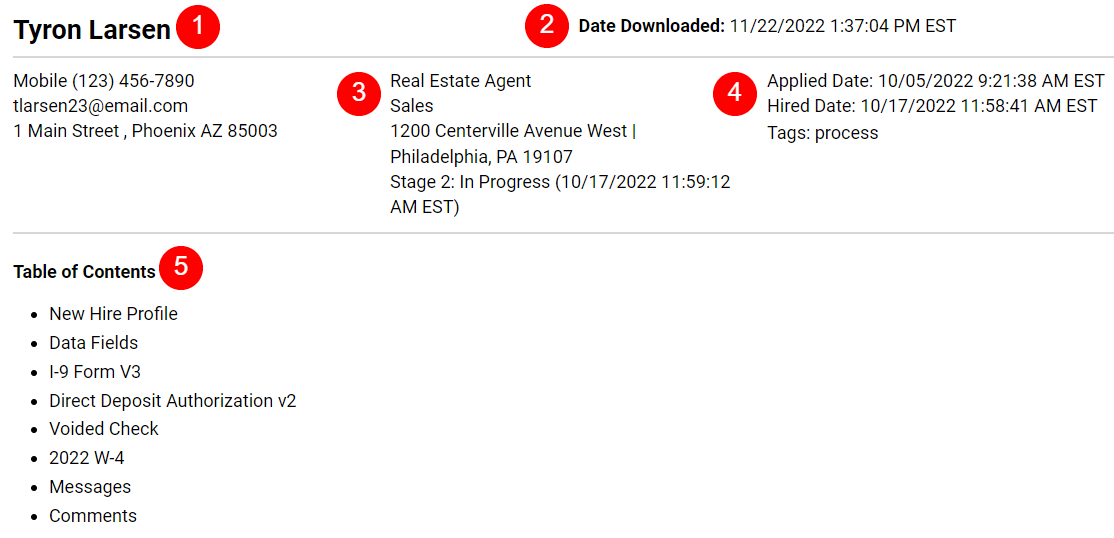 1. New Hire Contact Information
2. Date Downloaded
3. Job Information
4. Key Dates
5. Table of Contents