Sometimes a job posting requires updates after being posted to correct a mistake, change job information, or reflect organizational changes. Users with permission to "Post/Unpost/Pause jobs" can view and edit job-specific details as needed and users with permissions to "Create a Template" to reorder elements. Without those permissions, users assigned to the job as a member of the hiring team will have view-only access to the job details.
Once edited, the changes will cascade to all system locations that reference the updated fields, and the updates will be reflected on your Career Site immediately. Existing candidates in the applicant queue for the job you have edited will not be made aware of the changes. The change should show up on job boards later the same day or the following day after both the ATS and the job boards refresh their system data (which happens at multiple intervals throughout the day). The job boards will retain the original posted date and job ID (i.e., the edited jobs are not renewed like a job with AutoRefresh enabled). To renew your position after an edit, consider enabling the AutoRefresh feature.
Making changes to a posted job will not alter the job template itself. The changes will apply for that specific job only. If the changes should be applied to future uses of that job template, it must be updated within the job template library as well.
Follow these steps to edit job-specific details in a posted job:
Select Jobs from the menu and open a job by clicking the Job Title.
Select the Job Details tab and review each of the job detail pages:


Step #1 Information Elements
Step #2 Applicant Elements
Step #3 Review Processing Elements
Step #4 Posting Details

Any element with the drag and drop icon can be reordered and automatically saved in real time with the changes appearing on your Career Site immediately.
Click Edit and make changes to available fields by selecting an option from a drop-down or by updating the text.
To confirm the changes, click SAVE.
After clicking Save, the changes will be live for applicants immediately. Clicking the See Job from Applicant's View button will display your updates and show the application from an applicant's perspective.
Note: If system settings that determine what is required in a job have been changed after the job was originally posted, you may need to make a selection from these required options before your changes can be saved.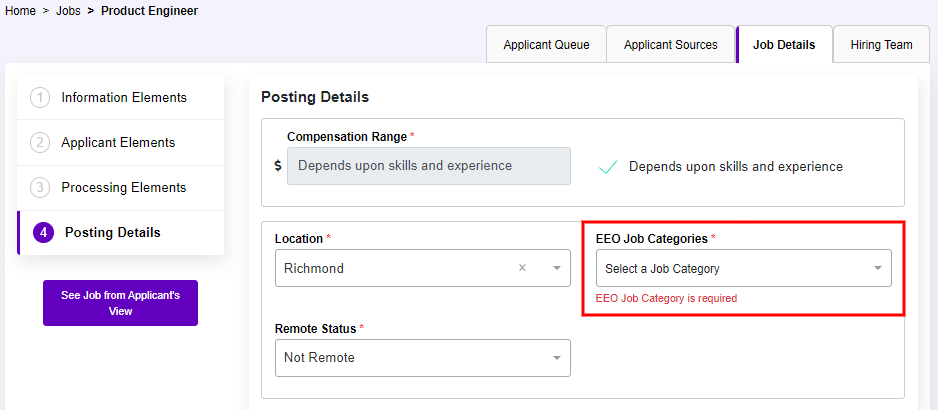 Tip: If other Information Elements, Applicant Elements, or Processing Elements used in a job need to be edited, they must be updated directly in the corresponding element library. See more about The Job Template Library.