You can now generate on-demand Job Descriptions from within the system in either the Information Elements > Job Description library, when building a job template or when posting a job. This process is powered by artificial intelligence and can be a great (and efficient) method to generate a starting point for a job description you can make your own.
Generating the job description
When you are in either the Information Elements > Job Description library or when creating a job template, or posting a job, you will see a button to "Generate Job Description".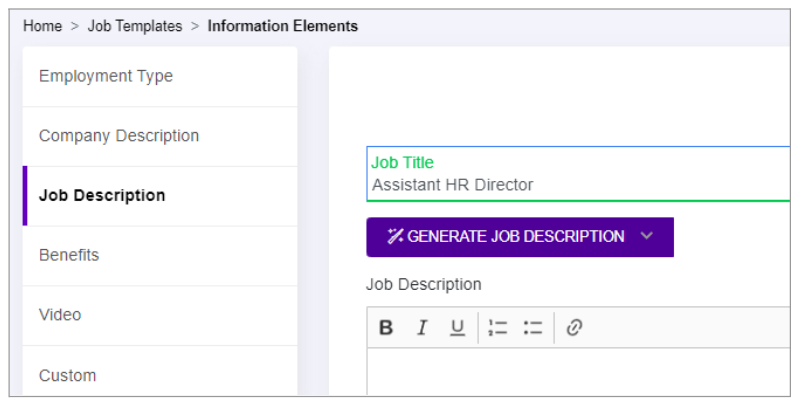 If you are in the Job Description library, upon clicking this button, you must choose the desired Experience level (Entry-level; Intermediate, Mid-level, Senior, Executive) and upon selection, the job description will be generated.
If you are creating a job template or posting a job, you must add in the Job Title and the Experience level in the Job Details section and upon doing so, the Generate Job Description button will be active and clickable
How it works
The job description is generated using our API connection to ChatGPT, an artificial intelligence platform, that can help generate content based on a large set of data, including job descriptions, it analyzes.
Once the content is generated, you will see it in a read-only format on your screen. To accept this starting point into your system so you can edit it, and personalize it to your organization's needs, you must "Accept and Add" the description. Upon doing so, you can edit the content as desired and save to your system.

As a best practice recommendation, Job Descriptions work best when they are specific to your organization and clearly define the job you are hiring for. Though this on-demand job description generation may feel like magic, we still highly encourage you to use it as the starting point and customize it to fit your specific situation.