Individual questions added to an AutoScored Question Set can be marked as critical. This allows users to signify Yes/No or Multiple Choice questions that are vital to the organization for this job. From the applicant's view, all questions in the application will appear the same. When the hiring team reviews an applicant from the Applicant Queue or the Applicant File, the incorrectly answered critical questions will be highlighted. This alerts the hiring team to review the applicant and process them accordingly, as the hiring system does not automatically reject any applicants who get critical questions incorrect.
Questions can be marked as Critical at the time of creating or editing an AutoScored Question Set. By default, AutoScored Questions are set to "No."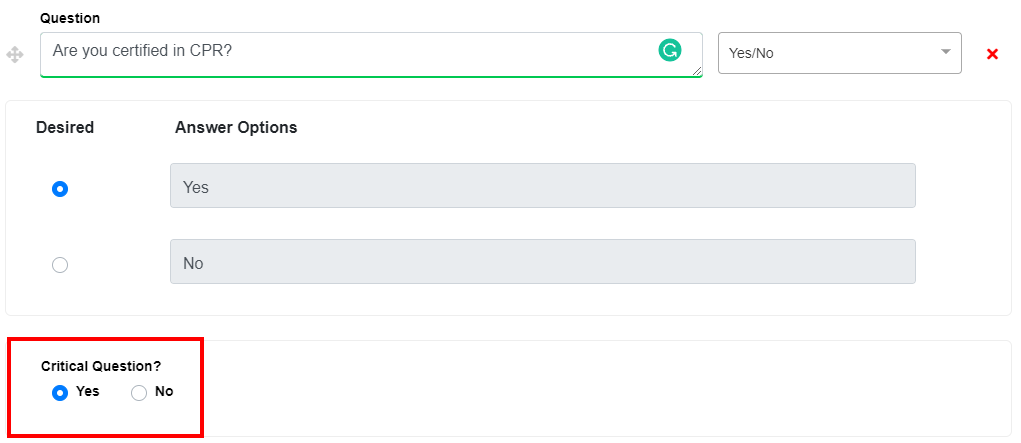 Viewing Critical Questions in the Applicant Queue
When an AutoScored Question set has at least one incorrect answer to a critical question, it will be highlighted in red. This alert lets you know that the applicant may not meet the basic requirements for the job.
The header "AS1" is short for AutoScore Question Set #1, which is the first Question Set assigned to the job template.
The percentages are calculated based on the desired responses selected when the AutoScored Question Set was created.

Viewing Critical Questions in the Applicant File
Question sets collect information from job applicants during the online job application process. For each application submitted, the job's assigned question sets will be displayed in every Applicant File. When viewing the question set from the Applicant File, each critical question will be marked with an

icon. Any critical question that is incorrectly answered will be highlighted in red with a red X. Correctly answered critical questions will have a green checkmark.