Welcome to KeldairHR! Our applicant tracking system was designed to help you seamlessly find and recruit the best talent regardless of the role. Setting up your hiring center is the first step in the process to get started. Account administrators can follow the process of customizing your Career Site and defining your organizational structure.
What is your Career Site?
The Career Site provided by your KeldairHR applicant tracking system will display your organization's posted jobs publicly. The URL address of your career site will contain your unique KeldairHR instance, such as "SuperCo" in jobs.keldair.com/SuperCo.

Branding your Career Site
The Career Site provided with your online hiring system is a list of your currently available jobs configured with your organization's logo and colors. This page is designed to be linked to a career page or jobs button on your organization's website.
To customize your Career Site, go to Admin > Career Site. The following options are available: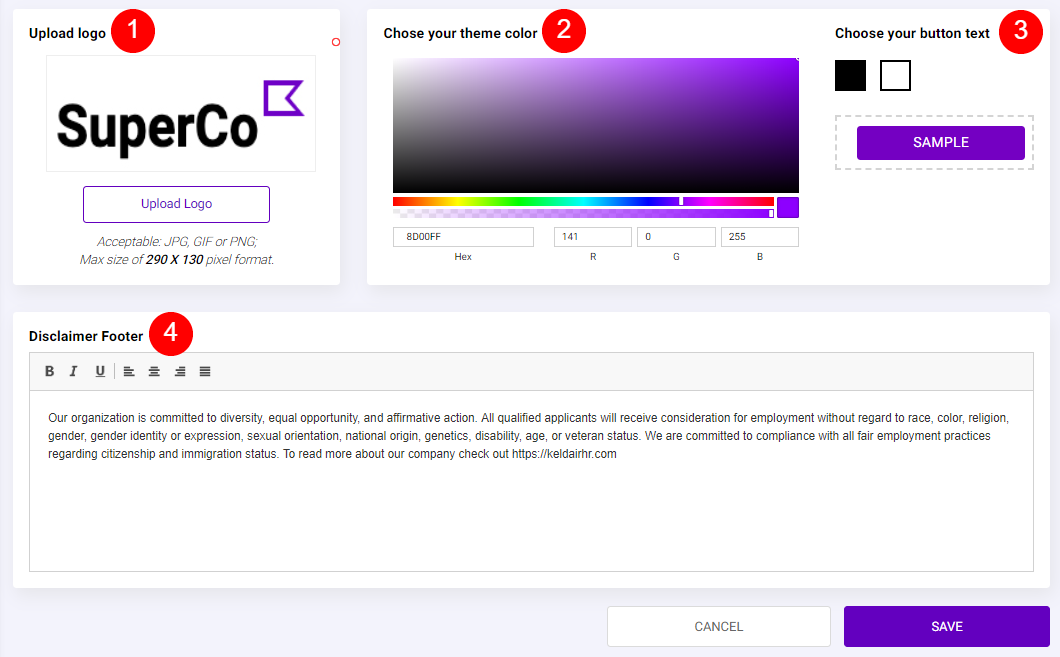 1. Upload your company logo
The logo image has a maximum size of 290 X 130 pixels, and the hiring system accepts JPG, GIF, or PNG files. The selected logo will be visible to job seekers, applicants, and your company's invited system users.
2. Choose your theme color
The theme color will be seen by the applicant, as it is used throughout the application.
3. Choose your button text color
The button text color will be seen by the applicant as it is used throughout the application.
4. Review and update the Disclaimer Footer.
The disclaimer footer will be pre-populated with the following message, which will be shown on the bottom of your Career Site and all pages of the application:
"Our organization is committed to diversity, equal opportunity, and affirmative action. All qualified applicants will receive consideration for employment without regard to race, color, religion, gender, gender identity or expression, sexual orientation, national origin, genetics, disability, age, or veteran status. We are committed to compliance with all fair employment practices regarding citizenship and immigration status."
Note: Changes applied to the Career Site will be live upon saving.
Viewing your Career Site
When logged into your hiring system, a direct link to your Career Site can be found by clicking your user profile in the upper right corner. Click Open Career Site, and it will open in a new browser tab. Since the Career Site is public, you and your applicants will share the same view.
Read more About your Career Site in detail.
Creating your Organizational Chart
The Organizational Chart is a reflection of your organization's structure.
Create your organization by going to Admin > Organization > Org Chart. This is where you set up the structure of your organization by regions, subregions, and locations. If a company doesn't have regions or subregions, the system can be set up just with locations. When you post a job, you'll be required to select a location that originates from this organization chart.
The example of Step #4 in posting a job template shows the drop-down where the location is selected.

Read more to Create your Organizational Chart.