LinkedIn is an organic job board that can be integrated into your ATS, enhancing the visibility of your jobs to professionals seeking career opportunities.
Connecting LinkedIn with your hiring system will send your jobs to your LinkedIn Company Page automatically as you post them. Candidates can review your job posting and use the link to apply directly to your Applicant Tracking System. If LinkedIn job seekers have opted to receive alerts for new jobs, they will receive an immediate notification when new jobs are posted. By default, the LinkedIn feed is deactivated in your online hiring center.
LinkedIn will need to be activated by your Account Administrator. To connect your ATS to your LinkedIn account, take the following steps:
Go to Admin > Applicant Sources from the menu.
Click on LinkedIn in the Source column with the Category of "Job Boards" and a Type of "AutoFeed." (Note: You may have more than one LinkedIn source if you tried using LinkedIn manually in the past via Tracking Links.)

Enter your numerical LinkedIn Company ID (a string of numbers, usually 6 to 9 digits long, that is unique to your company) and click SAVE.
Toggle the switch to Active to authorize the connection.
A notification will confirm the setting was saved.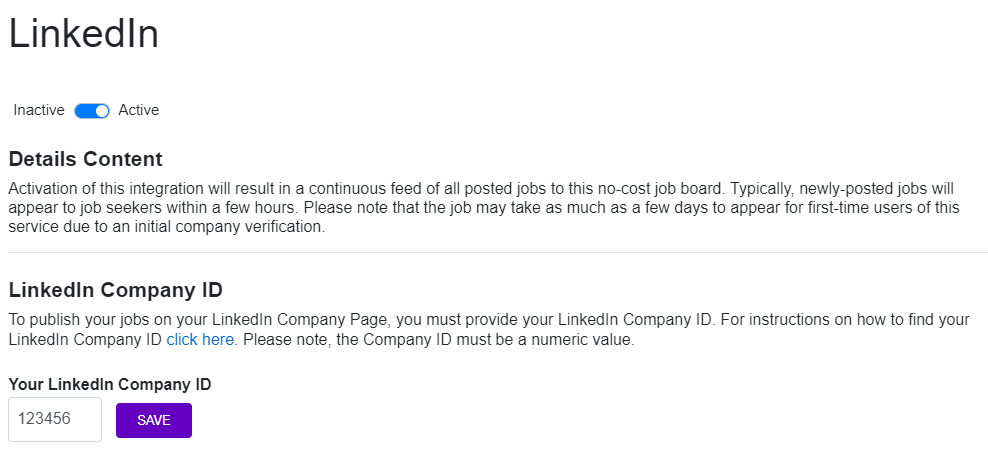 Once activated, all newly posted jobs with an "External" status will stream automatically to your company page on LinkedIn.
What is the Applicant Experience?
When visiting your Company LinkedIn page, applicants will see all of your job postings under the "Jobs" tab of your Company LinkedIn page. Applicants can review the details of the job and click "Apply" to submit an application, which will be directly entered into your ATS.
If an applicant tries to apply to a job that has been recently paused or closed, they will receive an immediate notification that the job is no longer available and will be provided with a link to your other available positions.
How are my LinkedIn Limited Listings applicants tracked?
When applicants apply via your LinkedIn Limited Listings integration, they will be tracked with the Applicant Source of "LinkedIn." You do not need to create any unique tracking links to obtain the correct metrics.
You will see the source of "LinkedIn" in the applicant file, in the Job's applicant source table, and in any reports using applicant source (e.g., Source of Hire Report or Applicant Source Report).
How frequently is my LinkedIn Company page updated?
The LinkedIn Limited Listings feed is updated approximately every 24 hours in accordance with the LinkedIn guidelines. New job postings and changes such as editing, pausing, or closing a job will be visible after the feed refreshes.
Can I control the LinkedIn Limited Listings / Basic Jobs on a job-by-job basis?

No. This setting is on a site-wide basis so either all of your jobs will stream to your Company LinkedIn page or none of them will.
Is there a cost to use the LinkedIn Limited Listings / Basic Jobs?
No. There is no additional cost to use this integration and it allows you to reach additional candidates on the LinkedIn platform. However, the Limited Listings / Basic Jobs feed will not appear as prominently or in the same volume as sponsored job slots or paid ads purchased on the LinkedIn platform.
To deactivate your LinkedIn integration, simply toggle the switch from "Active" to "Inactive" on your LinkedIn Limited Listings page in Admin > Applicant Sources. Your jobs will still show on your LinkedIn Company page until the feed has been updated with this change, which can take up to 24 hours.