Indeed Apply is an easy apply feature offered by Indeed. It's a job application shortcut for job seekers with registered Indeed profiles. Using Indeed Apply can increase job applicant traffic, since it lets candidates apply to a job quickly and easily.
By default, Indeed Apply is activated in your online hiring center. To disable or reactivate this feature, adjust the setting by going to Admin > Applicant Sources. Select Indeed Apply from the Source column and use the available switch. When successful changes are made, a notification will appear on the screen to confirm the setting was saved.

How does an applicant submit an Indeed Apply application?
To submit an application using Indeed Apply, the applicant would access the job posting via their device and click Apply Now. After basic contact information is collected, the applicant will be prompted by Indeed to "sign-in" to provide a resume, if required by the Job Template. If the applicant does not have an existing "My Indeed" profile, they can "Create one now," or they will be asked to verify their email address by providing a verification code sent to the email provided.
The applicant would then proceed to fill out the questions as defined in the Question Sets used in the Job Template. After completing all questions and editing the application (if needed), the applicant will click Apply to officially submit their Indeed Apply application. If successful, the applicant will see a message stating "Your application has been submitted," and a confirmation email will follow.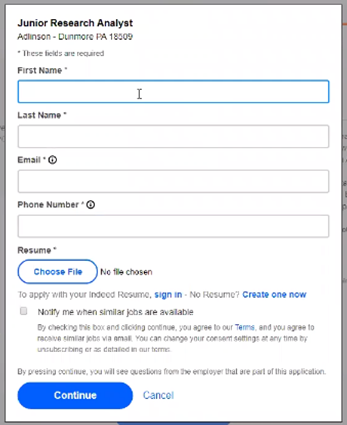 Working with Indeed Apply applications
Indeed will automatically send the candidate's application to your hiring system along with their submitted information. Internally, within the applicant queue for the job to which they applied, the hiring system will create an Applicant File with the source marked as Indeed Apply. Once received, the hiring team should continue to fully process the applicant, sending part two of the application, if desired.
Activating or Deactivating Indeed Apply:
If you are reactivating the Indeed Apply feature, and Indeed is also inactive, both applicant sources will be made active.

If you are disabling the applicant source for Indeed, then Indeed Apply will be made inactive automatically.