Account Administrators can add the Applicant Text feature to your KeldairHR system, which allows the hiring team to communicate with applicants via text messages. Texting applicants is another way to keep applicants engaged throughout the hiring process.
After logging in to your KeldairHR account, select Marketplace > Add-ons from the menu. Click Learn More on the Applicant Text card to read about this feature, including product details and pricing.
Applicant Text is a paid add-on that can scale with your recruiting needs. For pricing details, contact your Account Manager.
Applicant Text is an add-on feature that allows the hiring team to text an applicant's phone number to provide automatic hiring updates and communicate with applicants directly from within their Applicant File.
Follow these steps to activate Applicant Text:
Click the Activate Applicant Text button.
Enter the desired three-digit area code to create your dedicated Applicant Text number and then click ACTIVATE APPLICANT TEXT. The system will attempt to obtain a new Applicant Text number with the requested area code. If a number in that area code is not available, a close area code will be selected.
An on-screen notification will confirm the new Applicant Text number.
The switch in the upper right corner of the Applicant Text card will now be turned on and set to Active.

Applicants must give their consent to receive Text Messages and SMS updates for the job to which they are applying on the certification page. If they consent, applicants will receive a welcome text message confirming they agree to receive text messages at the time they submit their application. Applicants can reply with "STOP" at any time to revoke their permission.
The application information section of the Applicant File will show an icon and tooltip if the applicant has opted into text messaging.

From the Applicant Messages tab in a file, the Hiring Team can text an applicant by clicking "Send as Text Message," typing out the message in the space provided, and then clicking "SEND MESSAGE TO APPLICANT."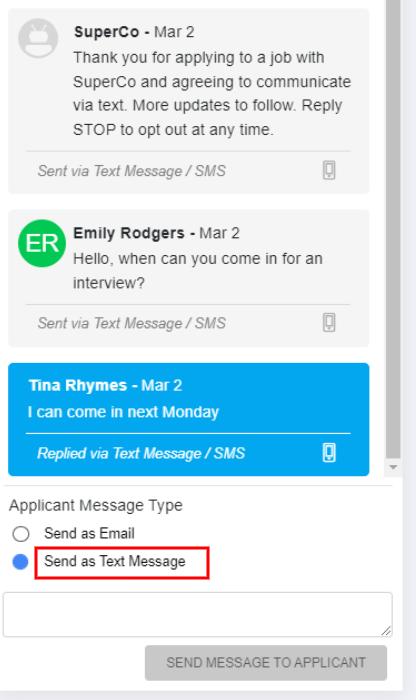 Account Administrators can view the company's Applicant Text details by clicking Learn More on the Applicant Text card from the Marketplace. The See My Applicant Text Details button will provide the following:
The Number of Applicant Text messages sent outbound from your site for the current month

The Number of Applicant Text Messages received from applicants for the current month

The Total number of Applicant Text Messages for the current month

The total number of all-time Applicant Text messages