KeldairHR provides account administrators with the option to add on the full Onboarding module to their hiring system, which allows system users to electronically onboard applicants after they are hired. Onboarding is an efficient way to keep the hiring process in one location, making it easy for system users to process, manage, and collect information from your new hires.
After logging in to your KeldairHR account, select Marketplace > Add-ons from the menu. Click Learn More on the Onboarding card to read about this feature, including product details and pricing.
Onboarding Pricing
Onboarding is a paid add-on that can scale with your recruiting needs. Pricing is set according to the volume of anticipated onboarding initiations. Please contact your Account Manager for pricing tiers.
Activate Onboarding
Onboarding is an add-on feature that allows permitted system users to onboard new hires.
Follow these steps to activate Onboarding:
Select Marketplace then Add-ons from the menu.
Click Learn More on the Onboarding card.
Use the switch to toggle from Inactive to Active to activate Onboarding.
An on-screen notification will confirm the activation was successful, and the switch in the upper right corner of the Onboarding card will now be turned on and set to Active.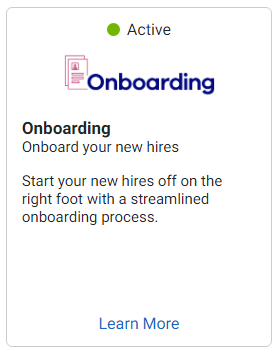 Accessing Onboarding
To access the activated Onboarding portal, click your user drop-down in the upper right corner and choose Onboarding.

Configuring Onboarding
Once activated, an account administrator will need to continue the setup process of configuring the Onboarding portal, which establishes the fields used to create each New Hire Profile and designates who is responsible for completing required information: a member of the hiring team or the new hire. Once configured, the next step is to add and create Onboarding Forms and Packages.