Voice Comments allow users to add audio recordings with automatic transcription to Applicant Files.
Users will see a microphone icon anywhere Internal Comments can be made, such as in Part One Elements (Resume, Cover Letter, Employment History, Education History, & Question Sets), Processing Elements (Phone Screen, Interviews, & Attachments), Part Two Elements, or directly on the Comments tab.
The first time you use this feature, clicking on the microphone icon will prompt your browser to ask permission to use your microphone. If you approve, click "yes" to begin using the voice comment feature. If you click "no," the feature will be disabled until permission to the microphone is granted. In most cases, you won't have to grant approval more than once.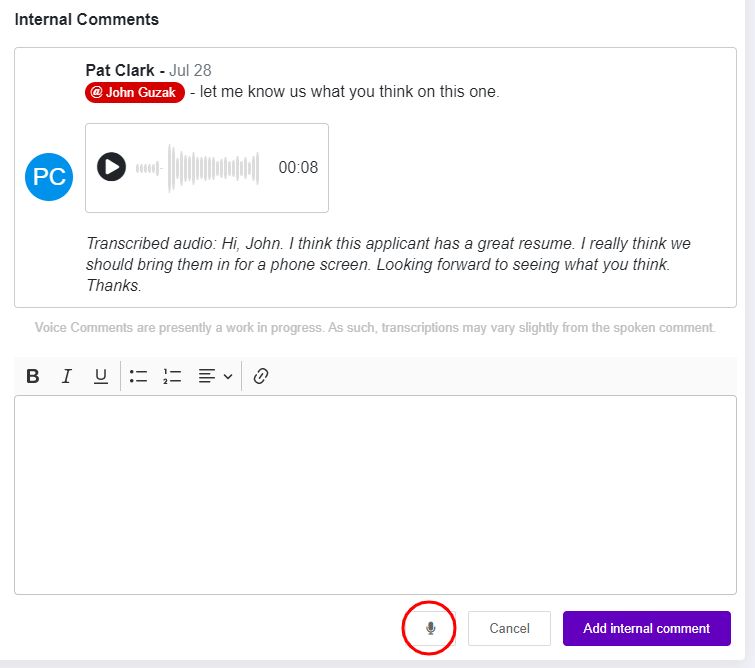 From any Internal Comments input area, click the Microphone icon or Record voice comment to begin recording immediately. If needed, a prompt from your browser will ask permission to use your microphone.
When finished, click Stop to end the recording.

You can preview the audio recording before uploading it to the system by clicking

Play button.
To cancel the voice comment, click the X and repeat the steps above to re-record.

Standard text notes (including @mentions) can be added along with the voice comment by typing in the comment box as you normally would.

When complete, click Add internal comment to add the voice comment to the system.
At this point, an entry will be added to the Stream, the Voice Comment will be added to the Internal Comment area, the Voice Comment will be added to the main Comments tab, and the system will begin its transcription process of the comment.
Any user who can add an Internal Comment can add a Voice Comment.
Every Voice Comment is run through our transcription engine which begins as soon as you have added the comment.
While the transcription is being generated, you will see a "Transcription in process …" message.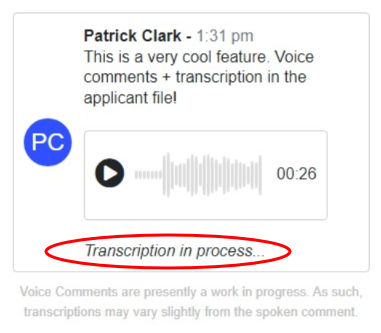 Once the transcription is completed, it will be added to this comment directly under the audio player. If you remain on this page, you will need to refresh the page to see the transcription.
It takes approximately 1 second to transcribe every 2 seconds of audio (so a 10 second Voice Comment will take approximately 5 seconds to transcribe).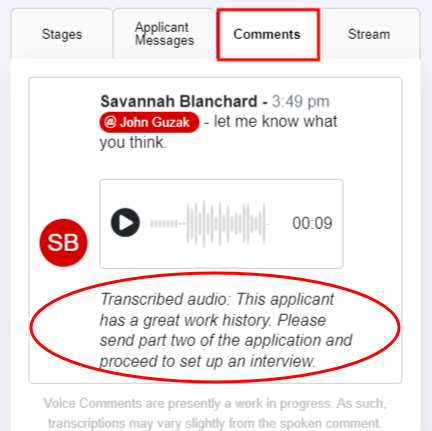 Note: There is a 25 mb maximum file size for the audio file that can be transcribed. This is a relatively large maximum that should allow for almost all standard voice comments. However, if you want to leave long Voice Comments, we suggest breaking them into smaller pieces.
Much like standard Internal Comments, anyone who has access to an applicant file can see and listen to a Voice Comment.
After clicking the play button, the Voice Comment will begin playing.
Note: Voice Comments are presently a work in progress. As such, transcriptions may vary slightly from the spoken comment.