A common concern is that users may think that applicants or jobs "disappear" from the hiring system. The applicant or job is most likely not visible due to custom settings such as filter selections, column sorts, page size, and search results that were applied during your session. Your hiring system is responsive in saving those custom settings when you leave the Applicant Queue, Talent, Jobs, Archive, or Import pages and then return to the previous page. This eliminates the frustration of having to reset your custom view. When you log out or close your browser, the saved state will return to the system default when starting a new session.
Custom Views
All columns can be sorted in ascending or descending order on the Talent tab, Jobs tab, and Applicant Queue. Clicking on the heading of a specific column will sort by that criteria.
Page filters can be utilized to create a custom view by clicking "Filter" and applying selections.
Views will default to 25 records per page. The number of visible records can be expanded by using the "Page Size" setting drop-down at the bottom of the page.

Applicant Queue Views
The Applicant Queue provides the option to view "Active" or "All" applicants. By default, the filter is set to "Active" to hide previously rejected or hired applicants from the view. If the filter is set to "All," previously rejected or hired applicants will be visible. To change the applicant view, click on the applicant view drop-down and toggle it to "All" or select the "Hired" or "Rejected" filter from the drop-down.
Active Applicants
An active applicant is one that hasn't been hired or rejected. When viewing active applicants, once a decision has been made in the system to hire or reject an applicant, they will be excluded from the list in the Applicant Queue. They will not be deleted from your hiring system.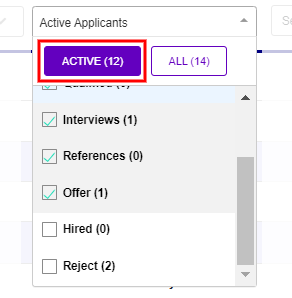 All Applicants
All applicants include those in any stage of the hiring processing, including applicants who have been hired or rejected.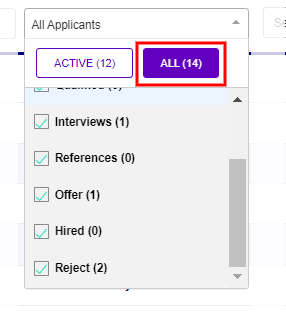 Applicant Search
The Applicant Queue of a Job can be searched by typing all or part of an applicant's name, resume content, or other criteria into the search bar. The search results will reflect the applied Applicant View filter of "Active" or "All."

Talent can be searched to look for a specific applicant or resume content. To further limit the results, the search functionality can be combined with advanced filtering to create lists of applicants that meet certain criteria. Talent Lists can be saved for future use or exported using the Gear Icon.