There are times when an Applicant File is missing one or more pieces of information needed to make an informed hiring decision. This can be the result of the job boards not showing all relevant information to the applicant or when the hiring team manually adds an applicant file. If the system detects that a required Applicant Element in Part 1 of the application is incomplete, the user will see a yellow missing icon next to each element with missing information.
Applicant Elements that are considered missing for detection purposes:
Question sets that have at least 1 unanswered question
Applicant Elements that have no content
References (if included in Part 1)
EEO/OFCCP forms
Applicant Elements that are excluded from consideration:
Missing applicant contact information
Resume
Cover Letter
Employment or Education History modules that have at least some data included
Collecting Missing Applicant Elements
Open an Applicant File.
Initiate the process of notifying the applicant to submit additional information by clicking the blue missing information banner.

Review the subject and body of the template.
Click SEND REQUEST TO APPLICANT to confirm.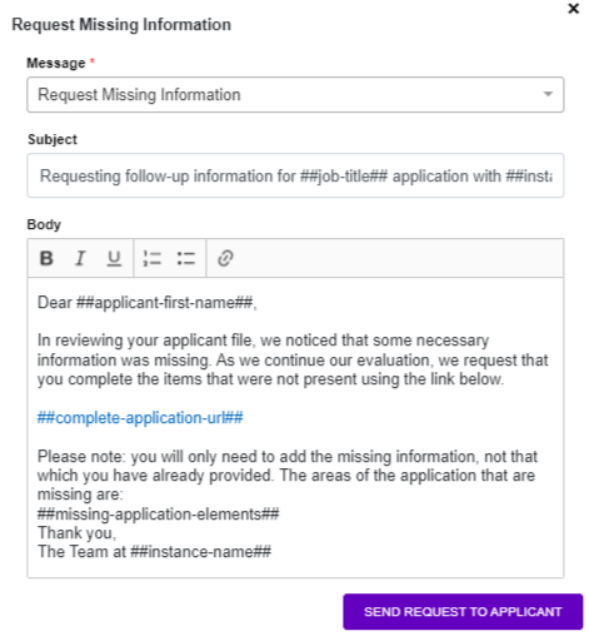 The applicant will receive an email requesting the missing applicant elements and a link to complete them. Only the elements that qualify as having missing information are presented to the applicant. When the applicant submits the completed information, it is returned to the applicant file, an entry is added to the Stream, and the alert badge and missing icons will no longer be visible.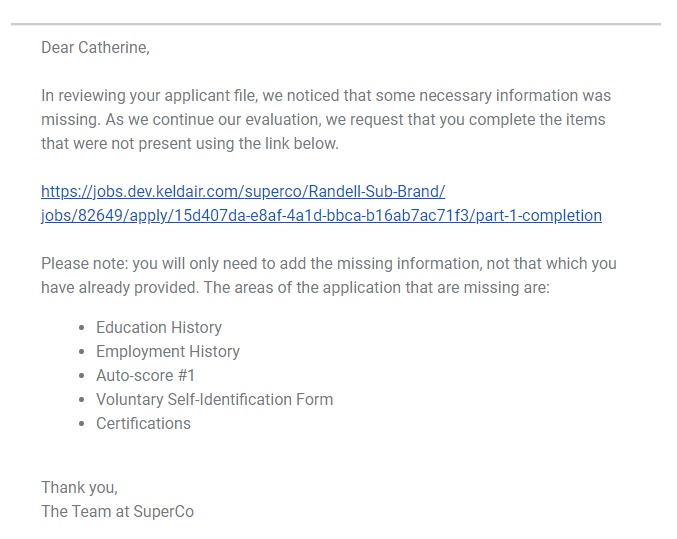 Note: The associated message template is stored in the message templates library. If you make changes to the email when requesting missing applicant information, it will not alter the standard template for other candidates. The changes will apply only to that specific applicant.