Initiating an official job offer is used for certain positions or HR workflows. Follow these steps to send your candidate a formal offer.
Step 1: Initiate Job Offer
Open an Applicant File.
Click the Make Offer Step from the Stages panel.
Review the offer message and edit the line "NOTE: Add the offer details here" to include the specific job offer content that will be emailed to the candidate. Making changes to the text from this window will not alter future uses of the template for other candidates.
To include one or more supporting documents use the Add Attachment button.
When the offer content is complete, click SEND.
Once the Offer is initiated you will see: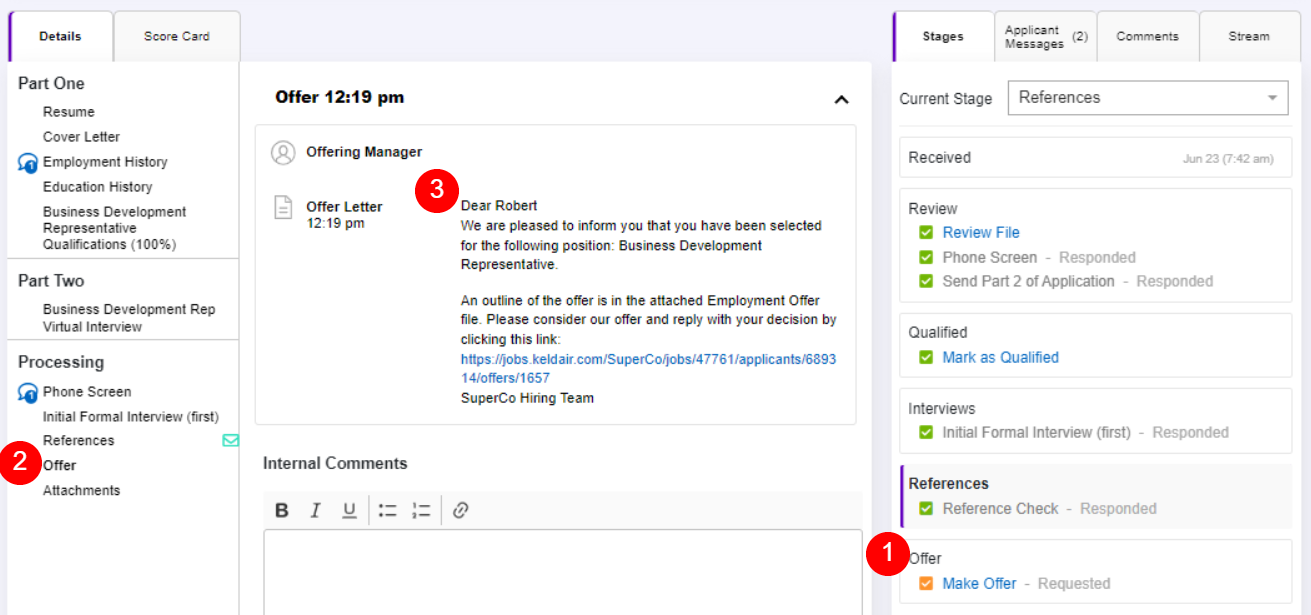 The Make Offer Step in the Stages panel in the Applicant's File will show as in-process with an orange checkmark and when the candidate replies with a green checkmark.
Offer will now be displayed in the Processing section of the applicant file Details tab.
The applicant will receive the prepared offer email which will be logged to the Applicant Messages, Stream, and the Offer element in the Processing section.
The applicant will receive a personalized, branded link to accept or decline the offer as well as the ability to include a written response and/or attachment.
As the offer steps are completed by the employer and applicant, they will be updated accordingly in the Offer and Stages panel of the Applicant File.
You can add Internal Comments associated with the offer from the Offer tab by adding text or voice and clicking Add internal comment.
Attached documents can be reviewed from the Processing section of a file by clicking Offer or Attachments.
Note: If the candidate declines your offer, you can make another offer or reject the candidate.
Step 2: Complete the Hire Process
If the candidate replies accepting the offer, follow the remaining steps in the process to hire the applicant. You can elect to send the applicant an email notification or not.
If the candidate replies declining the offer, you can follow up with the candidate by sending an Applicant Message, you can send an updated Offer by repeating the steps above, or you can follow the steps to reject the applicant.
After completing the hire, you can elect to keep the Job open or manually change the Job Status to Closed by selecting "Close" from the Job Status drop-down.