The Career Site provided with your online hiring system is a list of your currently available jobs configured with your organization's logo and colors. This page is designed to be linked to a career page or jobs button on your organization's website.
To customize your Career Site, go to Admin > Career Site. The following options are available: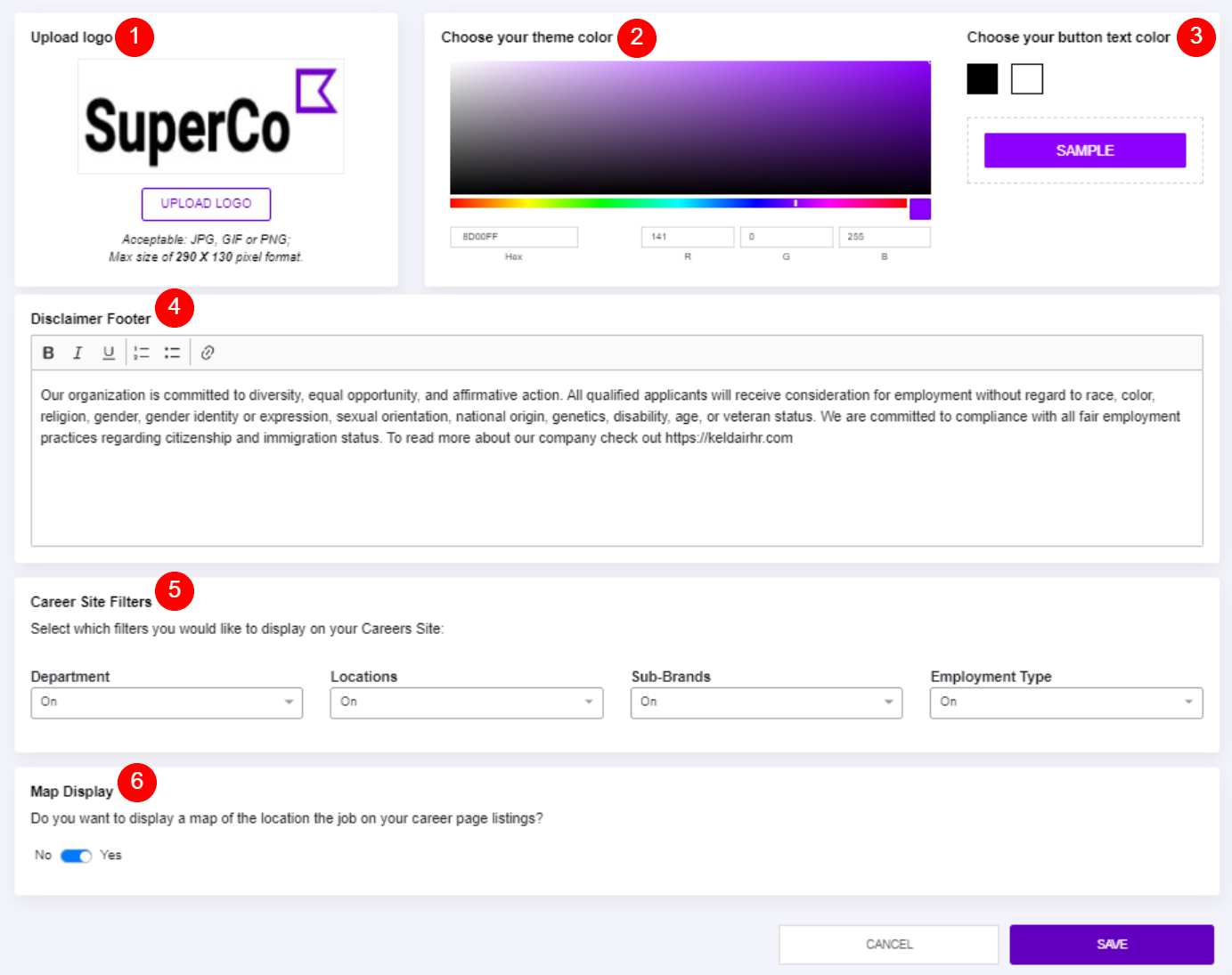 1. Upload Logo
Upload your company logo which can have a maximum size of 290 X 130 pixels, and the hiring system accepts JPG, GIF, or PNG files. The selected logo will be visible to job seekers, applicants, and your company's invited system users.
2. Theme Color
Choose your theme color by adding the Hex or RGB numbers or using the color sliders. The theme color will be seen by internal users and the applicant, as it is used throughout the application.
3. Button Text Color
Select either black or white as your button text color by clicking on the color of your choice. The "SAMPLE" button will display an example that internal users and applicants will see throughout the hiring system.
4. Disclaimer Footer
The Equal Employment Opportunity nondiscrimination disclaimer will be displayed on the Career Site, the job application home page, and every page of the application. The Disclaimer Footer is editable and will be pre-populated with the following message, which will be shown on the bottom of your Career Site, all Sub-Brands, and all pages of the application: "Our organization is committed to diversity, equal opportunity, and affirmative action. All qualified applicants will receive consideration for employment without regard to race, color, religion, gender, gender identity or expression, sexual orientation, national origin, genetics, disability, age, or veteran status. We are committed to compliance with all fair employment practices regarding citizenship and immigration status."
5. Career Site Filters
Career Site Filters control what filters are displayed on the Career Site. When applicants view active jobs on the Career Site, they can then use any combination of filters you have enabled by using the checkboxes. Use the drop-down fields to change the filter to "On" or "Off."
6. Map Display
Enabling the Map Display will show a Google Map of the job's address in job postings on your Career Site. Use the Map Display toggle to elect to have a Google Map of the job's address display in job postings on your Career Site. Use the toggle to change the filter from "No" or "Yes."
Once changes are made click the "SAVE" button to confirm.