The Review stage is a default workflow stage that can be used to review the entire application submitted by an applicant. A set of review steps are included by default but can be edited or removed. New steps can be added to mirror your existing hiring process.
Default Review Steps:
Review File: Review the entire applicant file. Once complete, mark this step as done.
Phone Screen: Perform initial screening to determine fit. Once complete, mark this step as done.
Publish Part 2 of Application: Ask applicant to complete the remainder of the job application.
If the applicant file has been reviewed and they have met the necessary requirements of the job and your organization, they should be moved to the next stage. Initiating a step from the next stage will move them automatically or you can use the drop-down at the top of the stages panel to manually move the applicant. For each actionable step within the next stage, click on an individual step name and follow the system prompts, such as sending an interview invitation or performing reference checks. Should the applicant not submit an adequate application, members of the hiring team can use the comments section to add notes and then proceed to reject the candidate.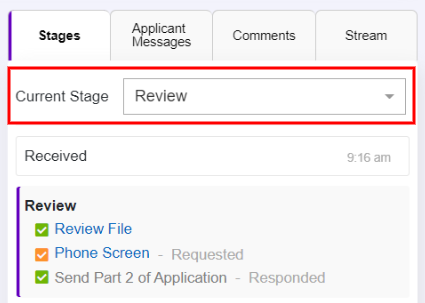 Related Articles: