Benefits are an Information Element that can be used in a job posting to inform applicants of what your company provides as part of the job, such as health benefits, bonuses, time off, etc.. Benefits are optional, but recommended. To increase applicant traffic, you can define and highlight the specific benefits and perks associated with your offered position. Along with your traditional benefits, attractive position details such as "Sign-on Bonus" or "12 Hour Shifts" could be included in the benefits package.
Although creating entries such as "No benefits available" or "TBD" is possible, we strongly encourage including some form of non-traditional benefits (if no traditional benefits are available). Potential candidates always review your benefits in addition to the compensation, so even entries such as "Flexible Schedule," "Opportunities for Advancement," or "Positive Work Culture" can make a strong first impression and help increase the conversion from a passive viewer to an active applicant.
Benefits can be created individually for jobs or shared across multiple job templates. You can import benefits when a job template is created and you can verify the benefits when the position is posted.
Adding a Benefit Package to a Job Template
Creating a Benefit Package
Use the following steps to create and define the benefit packages being offered to your applicants.
Click +Create Benefit
Enter Benefit Name
Using the text editor, add the Benefit Description
Click Save to add the benefits package to your library
Adding a Benefit Package to a Job Template
Benefits can be imported into a job template during Step #1, adding Information Elements. See more about Creating Job Templates.

Benefits in a Job Posting
When an applicant opens a job from your Career Site, a job board, or a tracking link, the text of the selected benefit package will appear in the details of the job posting.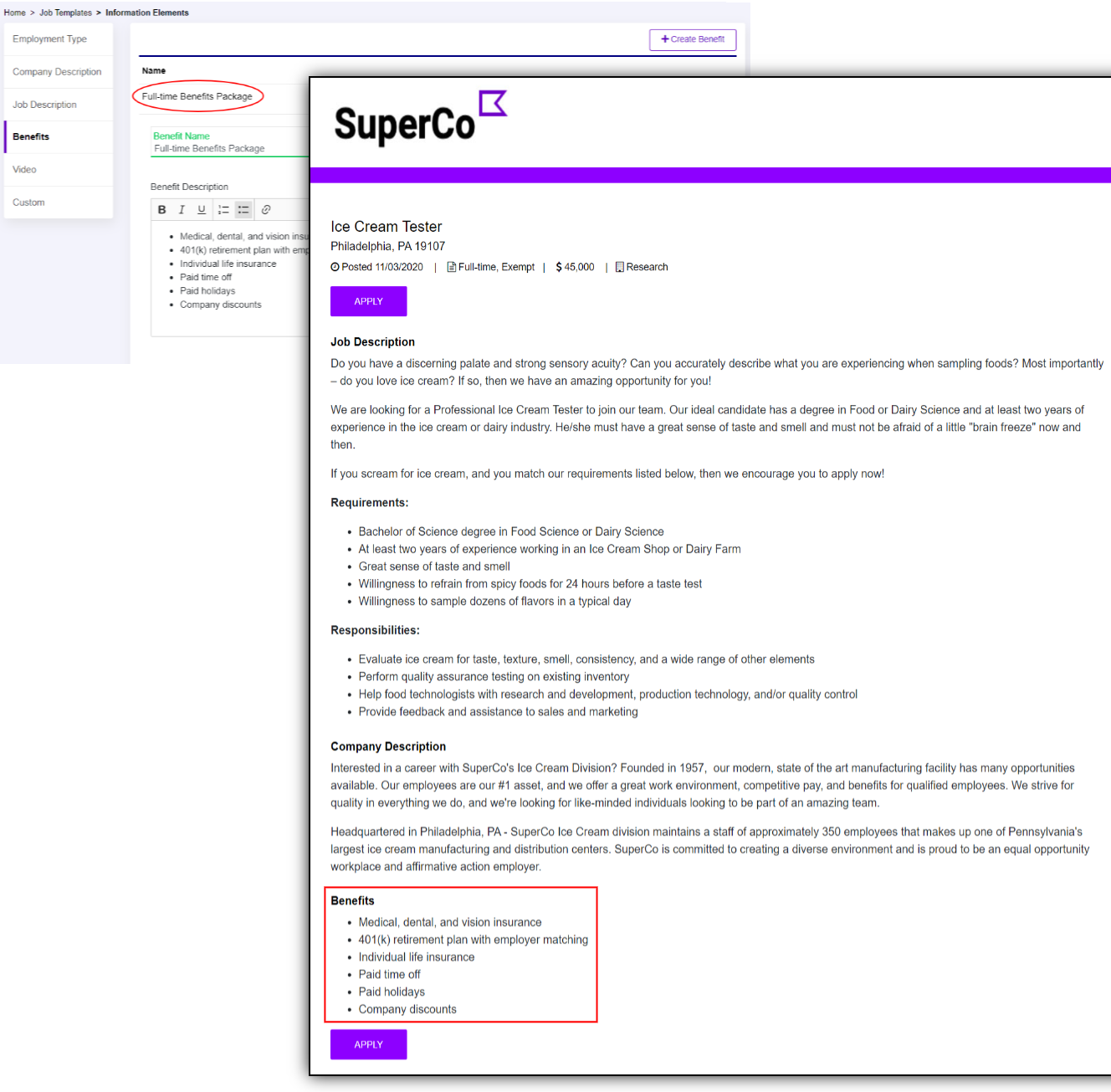 Working with Benefits
Benefits are an Information Element in your hiring system and represent a library of benefit packages that can be imported into your job templates. Click the ⋮ menu of an existing benefit to Clone, Edit, or Delete.
Clone: To build a similar benefits package quickly, you can clone a benefit, make your changes, and save it under a new title.
Edit: Editing the benefits package is a good option if you have changes that you would like to import in all future job templates. If the benefits package was used previously, changes will be applied to all templates, but the benefits in any posted jobs will not be changed.
Delete: You can delete a benefits package to remove it from the system. Performing this action cannot be reversed. If the benefits package was used previously in a job posting, there will be no changes to that job.